"YOUR PERMANENT OR PORTABLE PRACTICE FACILITY"
CONCRETE MOUNTED 1 – 10 BAYS.
WHEELED 1 TO 3 BAYS.
RANGEBAY
The Outdoor Portable or Permanent Driving Range

Visualise every golf practice facility you've ever set foot on. The chances are that the majority of them would benefit from a mobile or permanent structure to allow  an all year round practice and teaching facility.
RangeBay intends to change golf practice facility landscapes forever with its first functional affordable mobile or permanent practice facility , increasing customer retention, sustaining your revenue stream and more importantly increasing revenue  with all year round  teaching  potential.
RangeBay is available as a fixed concrete mounted option or fully portable driving range complete with wheels and specialty anchors. It is available to purchase in either design with bay dividers to give the customer privacy. Choose from any configuration of one to ten bays for the concrete mounted or one to three bays for the portable.
RangeBay:
"It's practical, it's affordable and it provides a real solution to the age old problem of creating more range traffic in the wind, rain or excessive temperatures."
FUNCTIONAL AND AFFORDABLE
RangeBay is a cost effective solution for practice grounds and driving ranges. Third party funding or sponsorship opportunities make it a worthwhile investment.
100% Customizable
Depending on your requirements RangeBay can be supplied concrete mounted from 1 to 10 bays or portable 1 to 3 Bays.
Safe Practice Area
RangeBay is designed to have segregated bays with netted bay dividers and padded stanchion covers which provide added safety and privacy.
Manufactured in the UK
Both the steel structure and roof is manufactured in the UK by ourselves using only high quality materials and highly trained members of staff.
Installation
We can provide a full installation service including groundworks.
Support
The team at RangeBay will offer its full support from concept,  through to completion, and on into the future.
What they say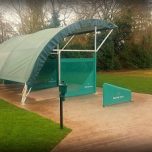 "Great service and a 1st class facility. Our requirement was for a robust yet aesthetically pleasing structure that offers our members quality cover for practicing. To also have the opportunity to relocate it relatively easily was important to us and Range Solutions / RangeBay have the perfect product"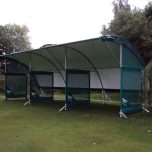 A new milestone was achieved by RangeBay recently with our first installation in the Midlands for Rothley Park Golf Club in Leicestershire with a 3 bay to wheels. Rothley Park choose RangeBay as they wanted to improve their current practice facility for both members and PGA staff. Danny Spilane club manager has been delighted with the reception RangeBay has recieved since installation.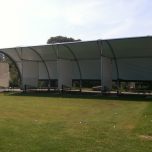 Our RangeBay four bay system has been "priceless" to our business during the last 6 weeks. We have been able to continue teaching and using video equipment within a rain and windproof environment. It has also allowed the use of the driving range to continue and without it we may as well have shut down completely with all the rain we've faced. I would thoroughly recommend any version of this structure.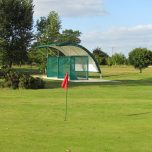 RangeBay provided Waldringfield Golf Club with a two bay RangeBay in early September 2012. "Range Bay constructed the shelter onto our own base, and was completely and efficiently assembled in only one day. The shelter looks excellent and is very sturdy. We were slightly concerned before construction about the size and look, but we have found the modern design has blended seamlessly into the surroundings. Use of the new facility has been beyond our expectations, and has generated more than five times it's expected weekly income. We have only received positive comments from our members, and it has been particularly effective for our teaching staff as the bay design focuses players during tuition".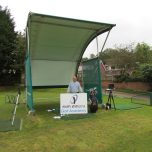 RangeBay is proud to announce some very exciting news with the endorsement of Keith Williams PGA Master professional. Keith is recognised as one of the leading coaches in Europe and over a career spanning over 30 years has coached most of the bright young stars on the European Tour. Keith has worked with top golfers such as PGA Champion Scott Drummond and Andy Marshall, as well as England squads and most recently the Czech national squad. RangeBay now provides all year round teaching at the Keith Williams Academy based at Hawkstone Park in Shropshire.